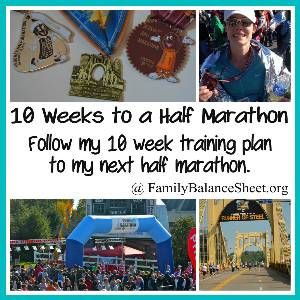 Every week between now and early May, I will be charting my progress as I train for my next half marathon in Pittsburgh. I'll post everything about my training from the actual distances to what I wear to how I stay hydrated, nourished and entertained while running
.
I've owned an iPhone since May 2012, but it's taken me almost a year to use a running app. I hate to call myself lazy, but I don't know how else to explain it.
Anyway, I love the Nike+ running app. It tracks my pace, distance, workouts. It stores my personal records, such as fastest mile, fastest 5k, longest run in distance, and longest workout in duration. You also can assign an emoticon and write some notes about each run. So in a few weeks when I look back on yesterday's run, I'll know why my pace was somewhat slow. My foot was throbbing and I had to go to the bathroom really, really bad the last mile. Really bad!
At the end of your run, the app syncs with your Nike + account and stores all of your information for you to over-analyze or ignore.
To get your own Nike + running app, log into Nike.com on your phone and click download app to join the Nike+ running community. Create a profile and then download the app to your iPhone or Android. It's a FREE app
And then start running!
My Workouts for Week 6
Monday - 3 miles, easy pace
Wednesday - 4 miles, easy pace
Thursday - 3 miles, easy pace
Friday - 1 hour yoga at the Y
Saturday 6 miles, run at conversational pace
My Workouts for Week 7
Monday - 3 miles, easy pace
Wednesday - 4 miles, tempo pace for two miles
Thursday - 6 miles, easy pace
Friday - 1 hours yoga at the Y
Sunday - 10 miles, run at conversational pace
My Training Plan for upcoming Week 8
This is the hardest week before the race, because of the 12 mile long run. I was really nervous about this workout when I was training for my first half. I had never run that far before. I remember feeling victory when I turned the corner towards my house on that first 12 miler. My husband and kids were waiting for me on the sidewalk to cheer me home. It was because of that 12 mile run that I felt confident on my first race day that I could finish the half marathon.
Monday - 3 miles, easy pace
Wednesday - 6 miles, tempo pace for 4 miles
Thursday - 3 miles, easy pace
Friday - 1 hour of yoga at the Y
Saturday - 12 miles at conversational pace
Do you use a running app to track your workouts? Which one do you use? Also, how did your training go this week? Let us know in the comments.
Read more:
A note about my training plan: I am not a medical professional or a certified trainer, just an avid runner. Please consult a professional if you feel you need one. Also, the half marathon training plan that I follow is designed for beginners. Although, it is advised that you do not start using the 10 week training plan until you are able to run 6 miles. If you are new to running, start by training for a 5k. There is plenty of information online to help you with 5k training.
This post is linked to
Motivation Monday at Life in Balance.
Thanks for reading. If you would like to receive FREE updates of FBS, there are four ways to do so: