I have had more than one teacher tell me how important it is for kids to continue to read over the summer, especially the early readers like my two girls. They work so hard during the school year and without practicing their skills over the summer, they will regress.
Last summer's schedule was very hectic for my family so we didn't participate in a Summer Reading program. I just didn't make it a priority to head to the library. While my kids had a fun and active summer spent outside with their friends--which is also important--our oldest started first grade last September forgetting some of the skills she had learned in Kindergarten.
This summer will be different. We will continue to spend as much time outside as possible, but we WILL participate in our library's FREE Summer Reading Program. It's just foolish not to.
We are fortunate to live very close to two top notch libraries who make reading & learning fun with a variety of weekly activities. There are movie nights, summer plays, visits from the local zoo, and other fun & educational activities for all ages. And both libraries offer prizes when the students reach their weekly reading goals, like free cones at Dairy Queen or free slices at a local pizza joint.
They're basically bribing our kids to read, but it works!
This past weekend, our local library held its Summer Reading Kick Off party and many of our favorite story characters showed up to par-tay.
Don't walk---RUN---to your local library to sign up for their summer reading program. The more our kids read over the summer, the easier the next school year will be for everyone.
Do your kids participate in a Summer Reading program? Have you participated in the past? Did it help your kids' reading skills? Let us know about it in the comments.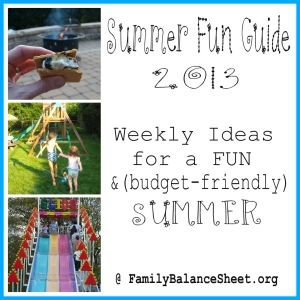 Thanks for reading. If you would like to receive FREE updates of FBS, there are four ways to do so: